What is your desk occupation?
With the work environment evolving to meet the needs of the modern workforce; the undertaking a time utilisation studies within the office is becoming a more popular method of working out how the staff use the office on a day to day, hour by hour basis.
Condeco are a company who provide technology within the office to aid agile working. They have produced a study of global trends of workplace utilisation that produced some interesting results.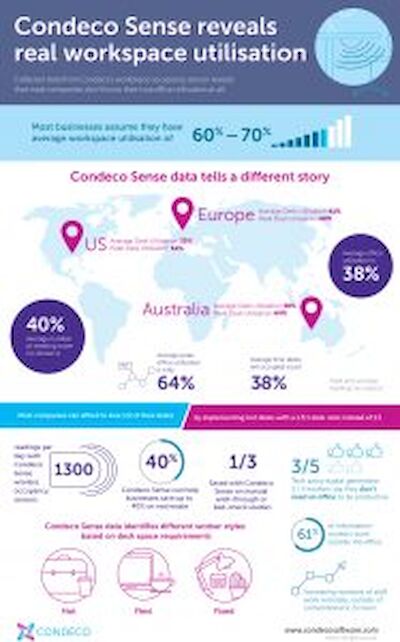 In Europe an average desk occupation of 41% and peaking at 68% shows that many offices are not utilised to their full potential and could afford to do away with a proportion of their desk space. This reallocation of space could provide additional room within the office for collaboration and informal meeting areas, but could also lead to a reduction in the amount of office space needed, leading to a reduction in rent & running costs.
Veolia
Veolia UK commissioned us to support them with the re-evaluation of the way they occupied their UK Head Office at 210 Pentonville Road. An impending and significant increase in rent & rates had galvanised the management team to research any reasonable options to support the reduction of floor space.
A detailed report was provided and with average occupancy rates of 42% and peak rates at just 75% we suggested a layout supporting flexible working.
To see how this has helped our previous clients, click the image above to see the full Veolia Case Study.