Changing office design to welcome the neuro diverse
According to ACAS it is estimated that 1 in 7 of us are neurodivergent – people with ADHD, autism, dyslexia, dyspraxia, dyscalculia - that's 15% of the population. Yet, the workplace is often designed to exclude those who are overwhelmed and distracted in ways the neurotypical don't understand. Organisations such as 'Ambitious about Autism' are trying to educate us that the workplace doesn't need to be too different to support the neuro diverse, indeed, thinking about it can benefit everyone and it is not difficult to implement.
Shockingly low, only 16% of those with autism are in the work force. Mainly, this can be explained because those diagnosed with ASD are an often-misunderstood sector of the workforce. Employers may need to be reminded that, if supported, the neuro diverse can be more creative, efficient and passionate than their neuro typical workmates. This video was created by the BBC to try and spread understanding about the features of workspace design which can negatively affect the neuro diverse:
It is estimated that 4% of the world has ADHD, and it's the most researched medical condition out there, but there are still misunderstandings between neurotypical bosses and neuro diverse employees. People with ADHD find it difficult to focus, this can be interpreted as lack of interest or even laziness by employers. Yet, these symptoms can be reduced with something as simple as a standing desk. Those with ADHD would also benefit from many visible clocks and wider computer screens.
Those with ADHD and dyslexia may benefit from a workplace that provides organisation tools, for example including memo boards and in-trays to visibly organise thoughts. Noise cancelling headphones to play ambient and non-distracting music can also help focus for those with Dyslexia and ADHD, as well as help to make the workspace less overwhelming for those with ASD.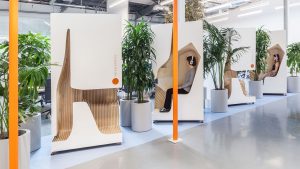 Anna Farley, an inclusive design lead for 'Place with Purpose', who has autism herself – has suggested that meditative pods would be an amazing addition for those with ASD in order to take 5 minute breaks to calm down. Both neutral colours and plants also help to make the office a more accessible place for those with autism.

As seen in the BBC video, bright lighting may make those employees who are sensitive to light, such as those with ASD and ADHD, uncomfortable and unable to work. A more soothing lighting design can be achieved by considering window placement and daylight lamps in light fittings.
Interestingly, all these fixtures (meditative pods, natural lighting, neutral colours) also support the neuro typical when trying to make a less stressful work environment.
Some useful links include:
An employers guide to ADHD from the Scottish ADHD association: Employers guide to ADHD
Managing an autistic employee by the National Autism Association: Managing an autistic employee
The article 'It Just Doesn't Add Up: ADHD/ADD, The Workplace And Discrimination', Bruce Arnold, Patricia Easteal, Simon Easteal and Simon Rice help to explain:
Ted Talk on working and living with ADHD: Working and living with ADHD
The Workspace Consultants specialise in office design and fit out project management in Cambridge, so please contact us to discuss your requirements and to arrange a no-obligation consultation.