100% Design Exhibition Visit
I spent another fabulous day wandering around 100% Design. I enjoying animated conversations about boiling taps, swivelled a touch screen table top round and round, tested umpteen chairs (some great, some awful!) and ate plenty of freebie chocolate.
For a break after an exhausting morning, I plopped myself down on Orangebox's new Eva chair (beautiful, minimal aesthetic, ergonomics to compete with most orthopaedic chairs on the market), I told the rep that I was a florist – thought I could rest my brain as well as my legs – it didn't deter the guy, who it transpired was Orangebox's technical product manager – he was fascinating, I learnt so much about the detailed design that goes into their chairs (I did admit to being a workspace designer in the end).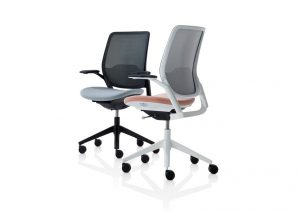 I love attending trade shows – we can discover and learn so much in such a short period of time. It's often the stands that I intend to walk straight past that offer up the best discoveries. I stroked a Quooker boiling tap as I ambled by, as far as I was concerned they are a domestic brand and therefore not a product I could specify, however following a throw away comment, I learnt that they now have a commercial version, one that, unlike it's competition, provides boiling water that is actually boiling.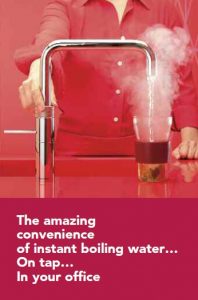 I always like to choose my favourite product at each show I attend, on this occasion the winner was Coring. They have created a touch screen round table that rotates. It's really exciting. The price is comparable with the cost of a circular meeting table plus chairs plus wall mounted TV. I just need to find a client who needs one now…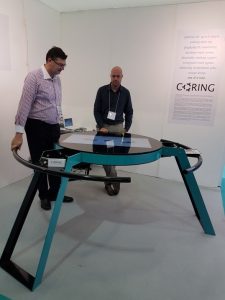 Kathryn Butterworth
Interior Designer